Raised Bed Planting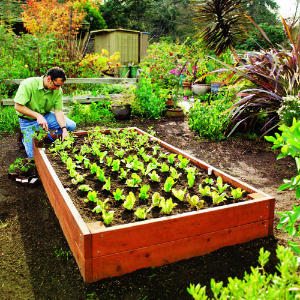 Question from Chad: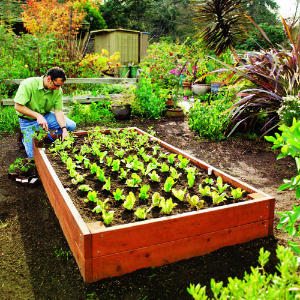 I am just installed a raised 13 1/2 foot by 5 1/2 foot veggie bed in mu back yard that will get great amounts of south facing sun. I have filled the bed with good quality organic soil. I am using a soaker hose that is hooked into the irrigation timer.
I would like tomatoes on the north side and want to plant good companion plants this time of year. I know you dont recommend soaker hose for tomatoes but I want to use soaker hose for the rest of the bed. I am a bit confused as to what to do. I just purchased your book, Southern California Organic Gardening and I realize I have a lot to learn but if you could point me in the right direction as to how to lay out my box I would greatly appreciate it.
Answer from Pat:
What you have done so far sounds fine. Now what I would do is purchase a bag or a box of organic fertilizer recommended for vegetables and work this into the top 6 inches of soil according to package directions. Next you will need to provide a trellis or stakes for tomatoes at the back. Your bed is quite long. It sounds as if you could grow 5 or 6 plants along the back. (The north side.) Maybe in one of the spaces you'd like to grow a cucumber plant. (Burpees Burpless is my favorite, a tall vine that is very productive. Any mild, long, Japanese variety will do well. These are expensive to buy so worthwhile growing. In front you would have room to plant your choice of summer vegetables. See the list on page 199 of vegetables you can plant now. These include such warm-season crops as bush beans, eggplant, radishes, carrots, leaf lettuce, beets, peppers and summer squash. (Choose a compact variety.) Plant a selection of these as soon as next weekend. Loosen up the roots a little before putting each plant in the ground and firm the soil around them. Of course if planting carrots, beets, or radishes, you will have to plant from seeds. Since you are starting a little late I would purchase most crops already growing as plants. Put in some basil too to eat along with the tomatoes. As soon as you plant you should water really well at first so the little plants take hold. Then water with the soaker hose enough so the ground is evenly moist. The plants will tell you if they don't have enough water since they will wilt.
You are not the only first-time gardener who is at first a little intimidated by the whole process of growing vegetables, but just plunge in and try. Soon you will discover your summer crops are just as anxious to please you as you are to help them grow. Yes, there is a lot to learn but simply by getting going with it, you gradually will learn everything you need to know. In a couple of years you will be an old hand at this and wishing you had more space. But your raised bed is a good size and shape for a great start and since you put it in full sun, in September or October, you will be able to switch to winter crops. Best of luck and don't hesitate to write again if you want to.