Planting California Native Plants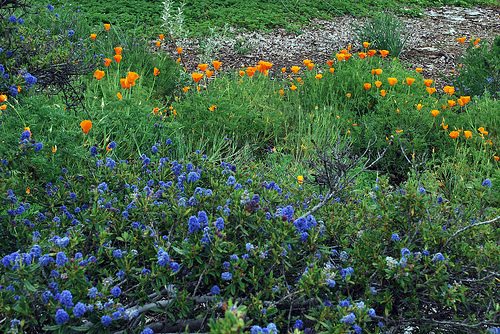 Here is the way to plant native plants (Best time to plant: in November)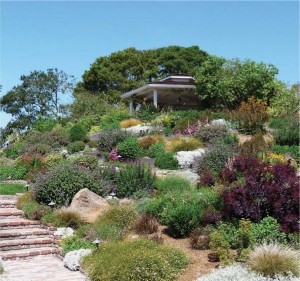 Native plants like best to be planted in plain, native, un-amended soil. Amended soil where garden plants have grown is not the best environment for native plants because native plants are sensitive to fungi and other pathogens that have been brought in with exotic plants. Best scenario is to plant natives straight into bared bulldozed ground with all prior plant material removed.
Make sure plants were well watered prior to planting. (If they are dry water them in the can again.)
Clean any existing mulch off the ground, making a large bare space surrounding the hole that has no mulch. (Mulch must not touch roots or get mixed into native soil.)
Dig the hole to the same depth as the depth of the plant from soil level to bottom of root ball.
Place the soil you remove from the hole onto clean ground. Or you can put it onto a tarp.
Fill the hole with water and let it drain out.
Fill the hole a second time with water and let it drain out once again. (In very dry soil it's wise to do this 3 times before planting.)
Carefully remove plant from can supporting root ball with your hands so roots do not break. (Native plants have notoriously fragile roots. Plants are often killed by careless handling at planting time.)
Sometimes roots are wound around in can. If so, gently loosen them but take care while you are doing this that roots don't break off from the crown of the plant because of the weight of the root ball.
Place the plant into the hole with the top of the plant on the same level as surrounding ground. Check the soil level. Fill in with native soil removed from the planting hole and press down with hands, never with feet.
Use the extra soil taken from the hole to form a watering basin on the edge of the rootball. A week later move water basin out further.
Replace mulch on top of the ground.
Water the plant thoroughly.
Water again the next day.
Water 3 times a week the first week.
Water once a week thereafter.
In summer spritz tops of foliage in early morning or evening to mimic the effect of a brief monsoon rain that washes off dust but doesn't really get soil wet. These plants can absorb moisture through their leaves. For many natives, watering the ground surrounding their roots in warm weather is likely cause root rot rot and kill the plants.
Photo by briweldon