Drought-Resistant Gardening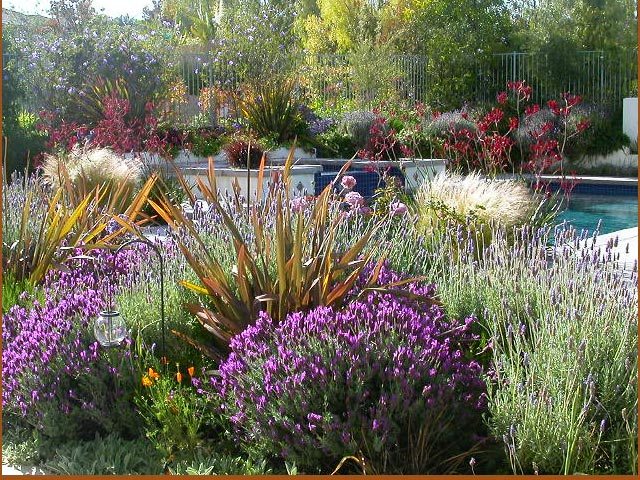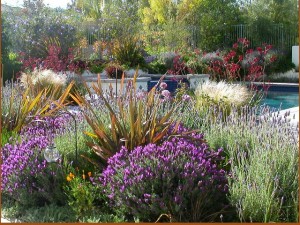 Question: I heard you speak at the Fallbrook Garden Club. I ordered your most current book tonight. Which of your books (or is there a book that isn't yours that you recommend?) would have the most information on drought-resistant plants for us in Fallbrook who don't have much water? I assume succulents and cacti are what I need. But I am new here and need specific recommendations. Thanks for your help.
Answer: I'm so glad you ordered my book. It covers all the plants we grow in handy month-by-month format but emphasizes drought-resistant gardening and plants throughout. Additionally, there are sections on native plants, the latest information on how to grow them, a new section on planting a desert garden —"Making a Garden is Like Baking a Cake"—, an updated succulent and cacti section, and a whole new section on fire-resistant gardening which especially impacts those living near wild areas. And it helps long time gardeners as well as new residents who soon find out how different gardening is here than anywhere else where they may have lived. I can't count the times that people have told me they moved here from somewhere else, this book helped them from the get-go, and it is now their "gardening bible."
Since you are new to gardening in Southern California, I also want to emphasize that a garden of succulents is not the only way to go. Succulents are just one large group of drought-resistant plants of many genuses that store water in their structural parts, such as leaves, branches, and trunks. Succulents can be stunning when planted in a well-designed arrangement, and yes, you could plant a whole drought-resistant garden of them as many gardeners have successfully done. However, you don't have to carpet the ground with gravel and resort to nothing but prickly cacti or poisonous euphorbias in order to have a water-thrifty garden. You can plant a succulent garden that contains no euphorbias or cacti and still have a fascinatingly varied landscape. You could also plant a completely drought-resistant garden that does not contain a single succulent or cactus.
Take California native plants, for example, though a few of them are succulent plants most are not. During the last fifty years, while gardeners largely ignored native plants or brushed them aside as "difficult", botanical gardens, hybridizers, and native plant enthusiasts came up with a whole raft of new, easy-to-grow selections and varieties and some of these need no summer water at all. Now that gardeners have at last become serious about saving water, they suddenly find that —Viola!—they have a whole plethora of wonderful species to plant that are much easier than those available years ago. Also, now there are several fine nurseries, such as Tree of Life Nursery near San Juan Capistrano, that specialize exclusively in native plants and are great fun to visit. (See Tree of Life website for hours and days open.)
In addition to native plants, many. but not all, grasses, palms, flowering subtropical trees, shrubs, and climbers—wisteria is a perfect example—, perennials, annuals, bulbs, shrubs, and even one rose are drought resistant. Lady Banks rose has no thorns, no diseases, and no pests and once established is highly drought-resistant. The largest rose in the world is a Lady Banks (Rosa banksiae 'Lutea') surviving for over a century in Tombstone Arizona without irrigation.
That said, among other books I especially recommend are Debra Baldwin's "Designing with Succulents" and her new book "Succulent Container Gardens." Another book that would help you is one I wrote called "The American Horticultural Society Southwest SMART GARDEN™ Regional Guide". On pages 82 and 83 you will find a list of all the lists inside the book. Each page contains as many as 6 photographs of the plants on that particular list. Many but not all lists pertain to drought-resistant plants and they are arranged according to how you would use them. The book contains 8 pages on succulents alone: 2 pages each of succulent perennials, succulent shrubs, succulent climbers, and succulent trees. This book will teach you to recognize many of the plants that grow here but it will also help you choose good drought-resistant ones for your garden.
Every local gardener should own a copy of "Sunset Western Garden Book" and refer to the illustrated lists on drought-resistant plants in the beginning of the book. You can also identify which Sunset Climate Zone you are living in by referring to the opening pages of this book. Other wonderful books are: "California Native Plants for the Garden" by Bornstein, Fross, and O'Brien, "Native Landscaping from El Paso to L.A." by Sally Waskowski with Andy Wasowski, and "Plants and Landscapes for Summer-Dry Climates of the San Francisco Bay Region" by the East Bay Municipal Utility District. All these books are chock full of wonderful photographs.