Controlling Goathead Thorn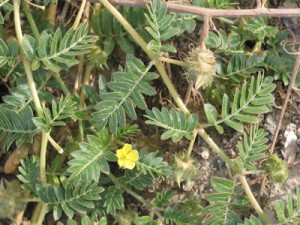 Question from Joy:
I live in El Cajon, Calif. We have a weed here that we call a "goathead". Do you know what it actually is? and how I can get rid of them? We call use that name becaause the sticker looks like a rock with 2 horn. They are actually so sharp and tough they can flaten a bicycle tire.
Answer from Pat:
Goathead thorn or puncture plant (Tribulus terrestris) is about as noxious a weed as ever came down the track. (The common name comes from the shape of the seed heads.) So sorry to hear that you have it in El Cajon. If you have a dog, consider purchasing a stout pair of dog shoes for it. Some pet owners even muzzle their dogs to protect their mouths and noses when outdoors. The fact that a small, seemingly innocuous, weed can make thorns (and lots of them) stout enough to puncture a bicycle tire or even a car tire, may give readers a pretty clear idea of how much harm this plant can do to grazing animals, pets, or bare-footed humans.
Goathead thorn is native to the Old World but was accidentally introduced on animal fur and has now proliferated throughout the Southwestern states. Getting rid of it permanently on ranch lands may never be possible. Nonetheless, the department of Agriculture has already undertaken a concerted campaign of biological control by importing an insect called the puncture vine weevil to control it. Puncture vine weevils and other biological controls are available for sale to homeowners also. For more information, follow this link: http://www.goatheads.com/home/gh1/page_43_13/puncturevine_weevils.html
Both puncture vine stem weevils and puncture vine seed weevils are sold. If gardeners and farmers gang up on this weed we may be able to eradicate it from neighborhoods and perhaps eventuallywe'll be able to control it on a larger scale throughout the west.
Another way of getting rid of this horrendous weed on a small scale is to burn it with a propane torch when you first see it in your yard, which effectively kills the plant and destroys the savage seedheads as well, but this solution is not permitted in many Western towns due to fire danger. (Before using a flame gun to destroy weeds, always investigate your local laws and restrictions or you may suffer a stiff fine.)
Still another organic way is to pull up the plants as soon as you see them and then press the area with a scrap of out-dated carpet one can obtain free from a carpet company to pick up any seeds that may have fallen to the ground. The seeds of goathead thorn were designed by nature to cling to the wool of animals, such as sheep and goats. They will grab and cling to a piece of carpet in the same way. Continue pulling up the plants and picking up the seeds in this way as soon as you see them, so you get those that have already been seeded. Weeding by hand really works but it takes persistence. Follow up by treating the ground with an organic pre-emergent such as Corn Gluten Meal to stop the seeds that the carpet missed, from germinating. Unfortunately seeds are long-lasting in the ground so you may need to stay vigilant for as long as seven years to get all that were accidentally introduced into your garden.