Romancing the Garden: A philosophy of gardening Pt 4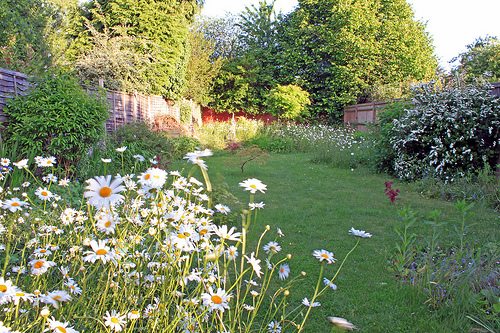 A garden may reflect a certain time or place, perhaps a country you love.
Pots, statuary, choose tasteful statuary and garden ornaments to add art and whimsy
Bird houses
Murals, mosaics
Statues and design elements can hearken back to ancient times,
other times and places.
But since a garden is all for fun, could be kitch Felder rushing shows us how:
Some gardens have a sense of humor
Shells, bottles, walls of color.
Gnomes?
Well-chosen signs
Practical aspects:
1. Work with nature, not against it
2. Be an organic gardener.
Before mankind invented pesticides everyone was organic and there were great gardens improve the soil with organic amendments release and attract beneficials. This kind of garden feels different than a dead garden where not even a beetle can survive!
How to do all this: make a list or create a design
o Let the space speak to you let the ground talk
o Don't need to make a drawing
o Your garden can evolve
o Walk around, dream a little, get ideas and write them down don't rush, there is time.
o Refer to magazines and books for inspiration
o Visit great gardens
o Nothing wrong with copying
o Keep a file of ideas and photos
o Choose materials with care,
o Best not to have too many materials.
And finally, once you have created this great garden,
Then live in it.
Go down there or out there,
Books to read,
Paintings to paint,
Letters to write, your friends
Family to be with.
Lunch under the arbor
Dinner and breakfast in the patio.
entertain in the garden,
Not always a barbque but out door.
First gardening is all about creation.
That is the joy of it
Making a painting
One works the dream is in one's head
The joy is in making that dream come true.
There was a time—could not sit in my own garden
Always something nagging at me to be done
Could only work in it.
But eventually the beautiful romantic garden you create is for your joy, for the joy of your friends and family.
Also at one time there is a certain tension: the garden never looks quite good enough to satisfy!
That era wears off.
Finally the garden is no longer about constant work. Certainly not about looking like a magazine cover every day of the week. Not about perfection,
It's about creating and then living in a retreat, a peaceful oasis in the midst of our increasingly urban hustle and bustle.
It's about happiness and joy.
Photo by tejvanphotos