What is killing my Victorian Box?
Question from Sandy:
Our mock orange hedge which was protecting us from the neighbor below, has been turning yellow and losing leaves. What to do beyond giving it more water? It's on a hillside, and the earth is compact, so there's lots of roll-off.
On the other hand, it could be a disease, as the bush next to it is beginning to succumb, leaving our deck a see-thru to yard below, IF this continues! MERCI!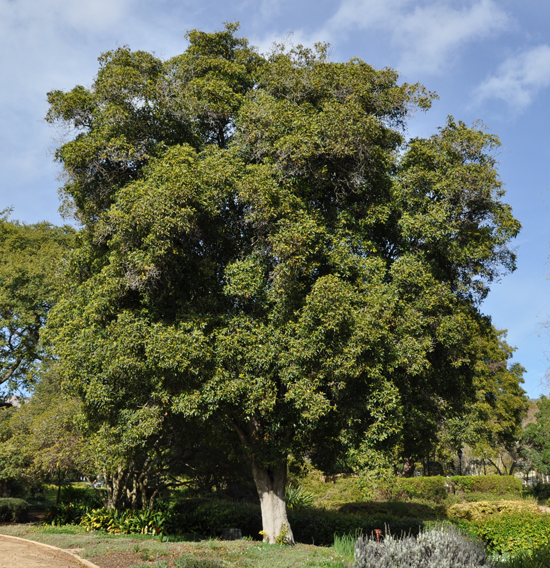 Answer from Pat:
I do not have good news
about
your Victorian box (
Pittosporum undulatum
). For the last three years these trees have been dying up and down the Southern California coast where they have naturalized. This African tree is no longer in the nursery trade because it comes up so readily from seeds planted by birds. Thus neither the Department of Agriculture nor the California Extension are interested in finding out why they are dying. I have told the Extension what I think is killing this plant and they could research to see if I am right but there are no funds to cover the research.
The symptoms are that one branch usually dies first. The leaves go yellow, then droop, then go brown and hang on, though some eventually drop off and the branch dies. After that the whole tree or shrub gradually sickens, leaves go yellow and wilt and it finally dies. I think the problem is that a pest insect called the Glassy Winged Sharpshooter (GWS) that is a vector for plant diseases, has injected it with a disease. The reason I think the Glassy Winged Sharpshooter is the culprit is that it is characteristic of the GWS that it specializes on a particular plant before moving on to another and usually one branch dies first, leaves go brown and finally whole plant slowly dies. This insect (GWS) is a sucking insect and when it first came to California it concentrated on
grape vines
, sucking out their juices and in the process injecting them with Pierces Disease, the symptoms of which are the same as I have described above on pittosporum and that you must have observed on yours. The way California farmers saved their
grape vines
was to pull out all the diseased plants and burn them and replant their vineyards with grapes grown on disease-resistant root stock. The next plant the GWS attacked was the oleander. They gave oleanders Oleander Leaf Scorch, which is killing off all our large oleanders state-wide. (The dwarf one's seem to be resistant.) And now I think it has moved on to Victorian box, which is what you have on your bank.
The only Victorian box shrubs that are withstanding this problem are those that are growing in deep, moist, organic soil with plenty of mulch, irrigation weekly and a northern exposure where they have protection from hot afternoon sun. Your only option is to eventually replace with something better, more drought resistant and pest free, such as Australian tea tree (Leptospermum laevigatum), New Zealand tea trees(Leptospermum scoparium), or pink melaleuca (Melaleuca nesophila.)