How Far to Plant Peppermint willow (Agonis) and Australian willow (Geijera parvifolia) from walls and paving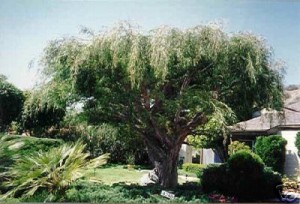 Question from Desiree:
Recently I bought three weeping willows–the After Dark Jervis Peppermint Willow tree, peppermint willow (Agonis Flexuosa), and Australian Willow (Geijera Parvifolia). These trees were purchased through a city plant a tree program. Not much inquiry was done, however I was told that these particular willows are non-invasive. I planted the smaller of the three–the After Dark Jervis in a garden area next to a pool. The other two are planted about two feet from a bull nose brick wall on a split level yard. It's only been about three weeks since planting. Now I'm wondering if planting these Willows by the pool, and the bullnose brick will tear up the pool and brick. I understand these willows grow fast too. Give me your advice, because I don't want to risk tearing up the pool or brick walls, and if I should move it, I'd want to do it soon. Thanks.
Answer from Pat:
Australian willow (Geijera parvifolia) is fast growing but known for being a basically trouble-free, drought-resistant tree with deep, non-invasive roots good near patios, streets, or to be planted in groves and okay in 5X5 cutouts. It is best in well-drained soils. Any tree planted in hard soil will tend to have more surface roots than if planted in deep friable, well-drained soil the roots can easily penetrate. But this tree eventually will grow to be 25 to 30 feet tall and of course the trunk will get fat in that amount of time. It probably will be fine for many years since if the soil drains well the roots will go down and not on the surface. It would have been wiser to plant the tree 3 feet from the wall in consideration of the eventual thickness of the trunk. Nonetheless, you planted it two feet from the wall. What's done is done. In this case I would leave it. It should be okay for many many years. Next time remember at least three feet away from walls is a better distance.
When I was an undergraduate at Scripps College in Claremont Calfornia there was a tall and lovely, smooth-barked lemon eucalyptus (Eucalyptus citriodora) that had been planted 25 years earlier with the trunk between two and three feet away from a tile-topped white stucco wall. I loved that tree and used to stand on the wall next to it and hug it when I was in college. I would visit it every time I went back to the college. It is now 60 years since I was in college. When I went to my sixtieth reunion my beloved tree was gone. It was recently cut down. I had noticed the trunk beginning to push against the wall. That gives you an idea of the time span. Think of the eventual size of the trunk. Look at old specimens of the same tree to see how thick the trunk will grow. In this case, since E. citriodora is deep rotted Please change to: rooted, it was the trunk that hit the wall not the roots that caused the problem.
In respect to the After Dark peppermint willow (Agonis flexuosa 'Jervis Bay After Dark') this is a slower-growing tree than the regular agonis and so far seems to grow to a smaller size. It should be fine near the pool. You don't mention how close but I would trust at least two feet away from paving? If closer than two feet I would move it. Since it's slower to take off this one would be easier to move. Consider eventual size and the shade on the pool. Will the foliage shade the pool or did you plant it to the north as is the best practice? Though this is a non-drippy tree you don't want tree branches overhanging a pool.
Finally the peppermint willow (Agonis flexuosa). This has proved to be one of the best small trees for California gardens, easy to grow and trouble-free. It is not known for having troublesome invasive roots. It is also used as a street tree in 5×5 cutouts and it is also tolerant of many kinds of soils and much or little watering. I think it will be okay for many years.
The problem with moving these trees now is that it could set them back a bit. Thus I would leave them where they are. Three feet would have been better clearance but in the case of these basically trouble-free trees I think two feet will be okay for many years. If you tend to be a worry wart and will lie awake at night worrying about this matter, move them immediately but be sure to dig up as much of the root ball as you can and apply humic acid mixed according to package directions and drench the roots and soil after planting to avoid transplant shock and encourage rooting. If you cannot find humic acid at a local nursery specializing in organic supplies, you can purchase humic acid in powdered or liquid form from Peaceful Valley Farm and Garden Supply. If you decide to do this move the trees immediately then send for the humic acid and use it as soon as it arrives.