Best Home Grown Plums, Apricots, and Nectarines in Southern California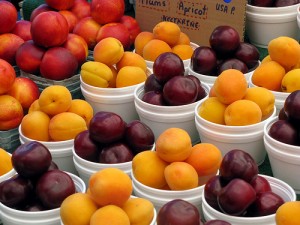 Question from Jon:

We had a gorgeous old plum tree in our back yard.  It had produced really great juicy plums for 1 season, but unfortunately the tree was very old and was not well cared for by the previous owner, so we had to remove it a few months ago.  It was infested with termites and
ants
!!.  So we want to plant another plum tree, but there are so many different varieties we are not sure which one to plant.  Do you have any recommendations?  The ones we had were yellow inside when they were ripe, and then would turn purple inside as they got more ripe.  Dark purple outside.
Also wanted to mention that the young man doing my yard is very passionate
about
what he's doing.  He's only 24 but has been landscaping since he was 14 and I am just really amazed at his talent.  I told him
about
you, and also gave him a copy of your book which he has greatly appreciated.   He already has read your November & December months as he's working in my yard and reminds me of some of the things you have pointed out.  We are both getting a lot out of your book.  Anyway, he lives up in Encinitas and wondered if you ever gave tours of your garden ever.  I think I remember you saying that you had to stop that because of some liability issues, but I wasn't sure.    I told him how much you have guided me and encouraged him to email you also.  I hope that is OK.   His name is Kasey Doyle in case you hear from him.
Let me know on the plums when you have a chance and thank you so much for all your help.
Answer from Pat:

The best tasting plum variety to grow in a
Southern California
home garden is 'Santa Rosa'. That's the one I would plant if I could have a plum tree where I live. The reason I like this plum so much is that the flavor is very sweet when fully ripe and soft, but with a twang to it that makes it just the best taste I've ever enjoyed in a plum. When you grow your own plums you can wait until they are ripe before picking them and this makes the flavor incredibly good—far better than any store-bought or market-bought plum you can find.
'Santa Rosa' plum also has the advantage of being self fruitful, so you will not need to plant a pollinator. It is an early-bearing tree. (There is another plum variety called 'Autumn Santa Rosa' and still another one called 'Late Santa Rosa', but don't get these, since neither of them is quite as good as the original 'Santa Rosa' variety, which bears fruit in late spring or early summer. Judging by the way you described the fruit of the tree you had—the one that died—it sounds to me to have been 'Santa Rosa'. You are correct in thinking these
trees
can die from neglect. Plum
trees
need lighter pruning than any other deciduous
fruit tree
, but one does need to train and shape the young tree and also every year after leaves fall, remove any dead and diseased wood. Be sure to clean it up every winter including the ground under the tree and also spray it with dormant spray. Keep other plants like ice plant from growing close to the trunk. This too can harm the health of a
fruit tree
. The ground under the canopy of the branches should be kept clean and bare except for a layer of mulch on top of the ground. Fertilize lightly with organic
fertilizer
when buds swell and are ready to open.
There are two other deciduous
fruit trees
that are high on my list of wonderful
trees
to grow in a home garden. Both of them bear well in your climate zone. One is the 'Panamint' nectarine and the other is 'Blenheim' apricot. Both of these bear sensationally tasty homegrown fruit to pick when ripe. 'Blenheim' will bear well in your climate zone but you will always have a heavier harvest of apricots every other year. You cannot purchase fruit with flavor that comes up to the flavor of fruit you will enjoy from your own tree. 'Panamint' nectarine should provide you with a big harvest every year. This is a much better tree to plant in a home garden here than a
peach tree
. For some reason people want to grow peaches here but they are not as well-adapted to
Southern California
gardens as are nectarines. The best home-grown peaches I ever tasted were in Ohio. We don't have that kind of soil, rainfall, or hot summer days and nights to produce fruit laden with such flavor and sweetness.
I am so glad you purchased my book. Read the remarks on pruning these
trees
and on dormant spray. Both apricots and nectarines need careful winter pruning in order to provide fruiting wood but the system for pruning each of them is entirely different. Nectarines are like peaches in that they need heavier pruning than most other deciduous
fruit trees
. During the early years your attention should be directed to creating a good shape to the tree. Pruning in later years is for the purpose of encouraging the
trees
to develop the right amount of fruiting wood and in places where you can reach it.
Thank you so much for telling me about your gardener. I'm sorry about not being able to open my garden for tours. I am currently redesigning part of it to make it easier care and more useful for the future of my home. (My children and grandchildren intend to keep this house in our family indefinitely so anything I do to keep it up is an investment in the future.) In future, also I hope to be able to use various portions of it for videos. In this way I can share it with others either on my website, on U-Tube or on TV.