Early Blight on Tomatoes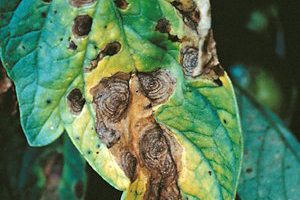 The company that makes Probiotics 4 Plants Defensor Bacterial Inoculator told me they have temporarily taken their products off the market while they create a new marketing strategy for the general public. I suggest you use Serenade(r) Garden Disease Control instead. Serenade(r) is widely available in nurseries and it is fully organic. This is biological spray. Use it exactly according to instructions. It is more of a preventative than a cure.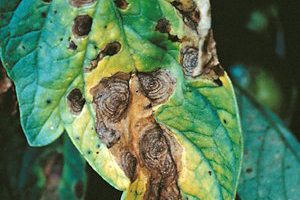 The best defense is planting tomatoes in clean soil where tomatoes were never grown before. Also, keep the plants clean. Clip off all brown foliage before spraying with Serenade(r). With plants growing in the ground or raised beds, make sure you are watering deeply and infrequently instead of lightly and often. This encourages deep roots. Drip irrigation is not the best way to water tomatoes. When growing tomatoes in containers, however, it is necessary to water more frequently so they do not dry out. Regarding fertilizers, feed with an organic product especially recommended for tomatoes. For good health and disease resistance, tomatoes need nitrogen, phosphorus, and potassium as well as trace minerals, especially magnesium.
Wet rainy weather early in the season has made disease problems proliferate more rapidly this year on tomatoes, particularly the heirloom types. For fewer disease problems, try growing modern hybrids which have been bred with resistance to diseases. Also from now on in future years don't prune your tomato plants and begin spraying with Serenade earlier in the season as a preventative.