Cutting back a Passion Vine (passiflora)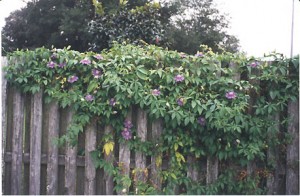 Q. How/when would you suggest I cut back the woody vines in a passiflora (passion vine)? I planted four five years ago, and the top surface is green, but inches under that is nothing but wood. They protrude from the wall more and more with new growth.
A. Passion vines (Passiflora) are largely tropical climbers and rampant growers that cling by tendrils. There are roughly 400 species, including fruiting and purely ornamental types. of which 350 species are native to South America, 7 native to USA, the rest mostly hale from Southeast Asia. You don't say which one you have or whether it's a fruiting or ornamental type, but all of them can be pruned about the same. The best time to do the major annual pruning is late winter or early spring. In addition, clip back errant shoots throughout the growing season to keep them in bounds.
Now that your passion vine is pushed out from the wall with a lot of dead growth behind, it will need drastic pruning to get rid of the dead wood. Don't worry, this situation is not unusual with passion vines. The best way is to try to preserve some of the outer green growth if possible and just attack it from the sides and cut and pull out all the dead parts at the back down to the ground. However, when a passiflora has become seriously woody and overgrown you can cut half the plant completely down to the ground and let that part regrow before cutting down the other half. Once the part you have cut is about 3 feet tall, you can then safely cut the rest down to the ground. (This system of hard pruning just half or one-third of an old woody plant at a time is an old-fashioned, safe way to renew any overgrown tropical plants without killing them.) Another way to renew a passion vine is to cut the entire thing down to the ground in one fell swoop. If you take this course, it should regrow quickly since passifloras are vigorous plants and grow rapidly. Pinch it back as it regrows to encourage branching. Make sure it has adequate water and rich soil to grow in. (You might not need to cut your passion vine to the ground yet since it is only 4 or 5 years old.)