Growing Lilac (Syringea vulgaris) in Southern California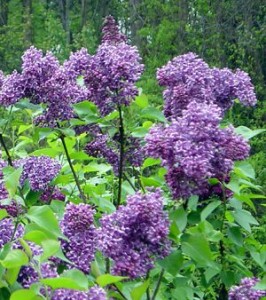 Question from Rachel:
First things first: Pat, I asked you a question about fruit trees a while ago, and you sent the most thoughtful, detailed message with a host of helpful suggestions, including a recommendation for Bearss lime trees. I managed to find one–Bearss were everywhere, but only dwarf varieties, so finding a full-sized tree took some time. It is a phenomenal tree: insanely productive and very sweet limes. Thank you!
On to the lilac tree/bush: I bought a white lilac plant a few years ago, and at the time it was exploding in flowers. I planted it in a corner of my garden where it flourished for 2 years (very green and leafy) but it never created a single blossom. I did some online research and read that in my zone (23) lilacs should do quite well, but that they needed a lot of sun. So I moved the lilac to the center of the backyard. It has not done well. Many of the leaves are looking crispy and burnt at the ends, and while the plant is covered in little green buds, they frequently turn brown and flake away. Am I not watering enough? Should I move the lilac back into the shade? Or should I forgo lilacs altogether?
Answer from Pat:
Many folks who grew up in cool-season climates and moved to Southern California wish they could grow lilac (Syringea vulgaris) here. If one chooses a low-chill variety, such as 'Lavender Lady' or 'Alba' that are adapted to growing in a Mediterranean climate, it is possible to grow lilac successfully and bring it into bloom in Southern California, but you need to live in Zone 22 (the Los Angeles Basin is Zone 22) or in a zone of even colder winter temperatures than that, such as Zone 21. Lilac blooms beautifully in Julian, for example, and is very fragrant there. In hot interior climates it's better to grow lilac in part shade and not full sun, so I don't think sun or shade was the cause of your lilac not blooming. I think it was temperature. Lilac is actually pretty well adapted to our soil since it prefers soil that is slightly alkaline and if you have acid soil you should add a little Dolomitic lime to it to make it sweeter. Lilac also needs moist soil and regular irrigation. It is not drought-resistant.
One must cut lilac back after bloom or pick all the blooms with long stems on them leaving some buds for new growth in order to create more blooming wood for the following year. "Prune after bloom never before" is the rule with lilac. (If you have a gardener who regularly prunes everything in sight that's why your plant didn't bloom because he cut off all the blooming wood.) However, the main reason eastern lilac fails to bloom in mild frost-free climates is because the plants didn't get enough winter chill. You live in Zone 23 which is a mild coastal zone good for avocados your garden simply does not have enough winter chill to successfully make lilac bloom, except in a cold pocket, or microclimate if you have such a spot. One of my daughters lives in Zone 23 and had three lovely lilacs in her garden. They bloomed for 3 years but where not very fragrant, then stopped blooming last year and this year they died. I do not consider this a good recommendation for a plant to grow here in Southern California.
Even when lilac does bloom the fragrance is not as good as if it were growing in a climate with adequate winter chill. Even without winter chill some folks have had success forcing their plants to bloom by withholding water in fall. (Usually lilacs need regular irrigation, but fall drought can force lavender to make buds for spring bloom.) Because of all these difficulties I don't recommend lilac as a wise choice for local gardens unless you live in a place like the San Gabriel Valley or Ramona where winter frosts are a common occurrence.
I suggest you look around for something to grow that will please you as much or more than lilac. My suggestion is to build a pergola this fall and plant Chinese wisteria (Wisteria sinensis 'Cooke's Special') bare root in January. Feed it, water it well for the first three years, and prune and train it carefully as I describe in my book. Every February and March, you will have masses of purple bloom (almost the same shade and shape as lilac) fragrance to die for, and eventually armloads of woody boughs covered with blooms to bring into the house. Once established and trained, wisteria is very drought-resistant. It also attracts birds.
Thank you so much for telling me about your prolific 'Bearss' lime tree. Delighted to know my advice helped.