Pollination of Avocado trees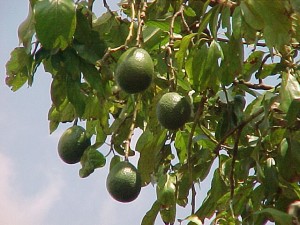 Question from Jon:
I am enjoying you book greatly and also enjoyed listening to you at the Master Gardner lecture you gave earlier this year.
I am interested in planting a Haas Avocado tree (24″ box). I would like to start harvesting in a year or 2. I was told that I need to plant another tree of a different specimen Avocado in order for them to cross pollinate and produce. Fuerte Avocado was recommended. . I really don't want a 2nd specimen as Haas is the only one I've found with any flavor. What would you recommend? Thanks in advance.
Answer from Pat:
Homegrown avocados in areas where there are many avocado trees may bear a pretty good harvest without a pollinator, but it's much wiser to provide a pollinator so you can be sure to get enough fruit. Fortunately there are several space-saving methods of accomplishing this. One way is simply to graft about three branches of a cross-pollinating variety onto the tree you have. Sometimes you can find trees that already have the correct type of pollinator grafted on the tree. Providing a pollinator can also help spread the harvest over a longer time span, but you do need one that blooms at the same time.
Avocado varieties differ in their types of flower, type A and type B. Cross pollination requires you chose a pollinator with the other kind of bloom. 'Hass' has excellent flavor and type A flowers. You will need a variety with type B flowers to pollinate it and 'Fuerte' fills the bill. 'Pinkerton' and 'Reed' are two other varieties with type A flowers that I personally find very flavorful but if you're just growing one tree, 'Hass' is a better choice. There are also a few flavorful types that have B type flowers include 'Yamagata', 'Sharwil', and 'Stewart', any of which might also make a good pollinator for 'Hass'. (The most recent edition of Sunset Western Garden Book has a list of varieties and their various characteristics on page 210. Some of these varieties may require a search, but several suppliers in Southern California grow them, including Andersons Growers and Growquest Nurseries in Santa Paula.)
Occasionally one can find a 'Hass' avocado tree with a type B pollinator already grafted onto it. Your nursery may be able to order it for you. If you can't find one, and if you decide to go this route, I would suggest you learn to graft yourself or attend some meetings of the Rare Fruit Growers Society to find a person who can provide the scion wood and graft the branch onto your tree. (You may have to pay a fee for the service.) I have grafted deciduous fruit trees and had excellent success on my very first attempt, but I tried grafting an avocado and did not succeed, which leads me to believe that grafting avocado takes more skill and patience than grafting deciduous fruits. Once you have successfully grafted the branch or branches in place, then you need to prune to it, that is take off competing growth so it will develop into being an integral part of the tree.
But there is yet another space-saving way to go in the home garden and that is to purchase two types of avocado (types A and B) and plant both in one hole so they grow together and take up no more space than one tree. Prune out more branches of the one that is your chosen pollinator. In this way you will get more of the fruit you want.
Delighted you enjoy my book and last spring's Master Gardener seminar.