Anna's Apple Tree, Peach, Apricot, And Plum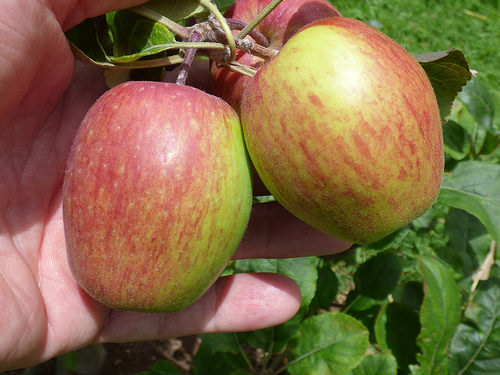 Gardening Question from Jennifer:
I have just recently moved to the country (Valley Center) where we now have 2 Anna's Appple trees, a peach, an apricot, and a plum tree. I am new to fruit trees altogether and it seems that the trees have not been cared for, for quite a while. The apples were very good tasting but had small black fungus like spots on them and the leaves also look kind of sickly. I would love to know how to cure this and also when to prune and thin. Leaves are yellow and falling now.
Apricot only produced a few fruit. Peach produced more than a few but the leaves have that curl thing, I guess?? And the plum is big, green and bushy but only produced a handful as well.
I have read some stuff but I am a beginner beginner who needs very specific instructions.
We also have mock fruit trees.
A cure for Goats Head (Puncture Vine) would be great too!
Help would be greatly appreciated.
Answer from Pat:
Deciduous fruit trees need care, including annual pruning in winter during dormancy, dormant spray several times throughout winter, fertilizing lightly when blossoms swell (or in late fall or early winter with manure), mulching the ground—manure takes care of this as well as fertilizing in one step—and applying adequate amounts of irrigation in spring when needed and in summer, but no irrigation other than rainfall in fall and winter. These actions, combined with having the right varieties for your climate, can help deciduous trees bear fruit and stay healthy. I suggest you try to bring these fruit trees back to health and if they do not recover, then replace with new ones. You may be able to save these trees, but the presence of curled leaves on the peach tree does not sound promising since peach leaf curl is usually irreversible once it starts. If the tree is severely diseased and never gets better, cut it down before planting another peach or a nectarine since both fall prey to peach leaf curl and it is usually fatal. The spotted leaves and fruit on your apple trees sound like apple scab. Dormant spraying and cleaning up the ground after pruning annually should help the tree to gradually recover. By removing dead and diseased wood and destroying all leaves plus spraying in winter, and providing the additional care as given below you may eventually control this problem.
Wait until leaves fall from all the trees. Then rake up all leaves and debris under the trees. Bag it and send it to the dump. Don't compost it. After that, prune the trees removing all the dead or dying wood, and taking off all hanging dead bark and making sure every leaf is gone. Follow up by cleaning the ground a second time. Your first step to do now will be to purchase a pruning book and look at the photos or drawings. This will help you greatly. Each type of deciduous fruit tree needs different pruning. Also order and purchase a three-legged orchard ladder. 8 foot tall should do. A three-legged ladder will last a life time if you keep it in the garage or shed.
Do not over-prune your 'Anna' apples. This is hugely important! All instructions for pruning deciduous trees recommend opening up the center of trees but when a tree has been neglected the center will be full of growth and if you remove all of it at once the tree will grow instead of flowering. It may never come back into balance. Apples bloom and bear on spurs. A spur is a piece of thinner wood coming off a thicker branch and a spur often twists and looks deformed. Spurs on apple trees may be six or eight inches long or even a foot long. Many new gardeners looking at these twisted twigs with a lot of buds on them and think "Oh, this looks ugly, I've got to take this off, it looks terrible!" Stop and think and say to yourself, "NO! I will resist the urge to cut these off. These ugly-looking twigs are exactly where the fruit comes from!" Yes, fruit will come from those fat buds! (Thin skinny pointed buds are leaf buds. Fat buds are flower buds.) Do not cut off these spurs with all those buds since on apple trees spurs continue to grow and bloom for many years.
One problem with an apple tree that has been neglected is that it may send up a lot of whip-like shoots straight up from the main branches in summer. These are suckers. They are in the middle of the tree coming up from the main scaffold branches and they should have been cut off every year in August but if your tree was pruned early in life and then neglected it may have grown many suckers and then spurs grew on these existing suckers and these spurs perhaps now bear most of the flowers and fruit. If this is the case don't try to correct it all at once. You may never be able to correct it totally. Just cut the tops of these suckers down by a foot or two at the tips so they don't get too tall. Look and see if there are some new thin suckers coming straight up off the main scaffold branches and cut these off but very likely there won't be any new ones since the tree is likely to be putting all its energy into the existing sucker growth. However if you find new whiplike growths going up in the middle of the tree from scaffold branches cut them off now. Don't wait for winter. In neglected trees these suckers grow thick and become like trees growing inside trees. It's not ideal but in an unpruned tree you just have to put up with it or you will unbalance the tree and prevent future flowering and fruiting. If there are a lot of these growths, take off one or at the most two of these structures annually in winter. That is enough. Continue this action every winter when you prune, but go easy on pruning your 'Anna' apples. Improve it slowly over a few years. This year mainly remove only dead and dying wood, clean up the tree. Remove or shorten any branches that are brushing the ground and lower the tall growth a bit so it's not out of sight.
Apricots such as 'Blenheim', which I hope is what you have, often bear heavily in alternate years. Follow the instructions in your pruning book for how to prune apricot. It needs more pruning than apple trees do in order to produce more wood to bloom and flower the year after next. On apricots you will get fruit on wood that grew last year. If the tree was not pruned then it might not have grown much new wood last year so you want to look for that and not cut it off but cut off other wood so it will be stimulated to put out new wood that will give you a big crop the year after next. Apricot also blooms and bears on spur wood though not as many as apple trees since it also bears straight off the branches and on whiplike shoots. The spurs on apricots are short and stubby. Look for them and don't cut them off. You have to be careful with apricot to notice from year to year where the fruit is and don't cut off those areas. (Each variety has slightly different placement of the fruit.) You can get some help online. Here is a video on pruning apricot trees and the man doing the pruning clearly shows you where the fruit is going to be on a Blenheim apricot and how you can cut off the growth on the other side of the fruiting buds.. http://www.youtube.com/watch?v=7ORa54wnK8g
If you do not find any fruiting buds on your apricot tree, don't be discouraged. You need to prune it so it will grow wood that will bloom and bear the year after next. Eventually by pruning enough and properly you will get it bearing again.
Peaches need harder pruning than other deciduous fruit trees because peach trees bear their fruit on new wood. Pruning peach trees is done to encourage new wood to grow which will then bloom and bear.
Do not over-prune the plum tree. Plums need little pruning except to remove dead and dying wood. Some of them don't have much fruit and this may come from a lack of a pollinator. Rich fertile soil can also help plum trees bear fruit. See below for instructions on manure. I would suggest adding another plum tree this winter since cross pollination could help even if you have a variety needing none and even if you don't know what variety you need. Purchase a 'Santa Rosa' plum in bare-root season (January) and plant that. You will be glad you did. Also plant a 'Panamint' nectarine. Fruit will be far better than your peach tree. Take good care of the 'Panamint' nectarine once you get it. Don't ever fail to do the dormant spraying so it doesn't catch peach leaf curl.
After pruning and cleaning all your trees and carefully cleaning the ground under them, then apply dormant spray. Use fixed copper spray since bordeaux type sprays are no longer available in California. (Talk to your nursery person to get the right product.) Spray all over the branches and over and under and in all the cracks and crevasses beginning in the center of the tree and covering every bit of the bark completely. Wear a mask, goggles, protective gloves, a hat or scarf on your head, and protective clothing when you do this job. Then wash the clothes and take a shower afterwards. You may be able to overcome the peach leaf curl and any pest problems by diligent dormant spraying, but this will be a matter of luck combined with your being conscientious. Do the dormant spraying once a month throughout the winter months. Stop spraying before buds swell. If rain falls within a day or two of dormant spraying repeat the process for that month.
One thing that would help your trees would be to mulch them with manure in late fall or early winter ahead of the rains. This will help build up a much more organic soil and give your trees a boost towards health. If you can find a source of good clean horse manure, use that and spread a layer of manure on top of the ground under the branches beginning 2 feet from the trunks of the trees and covering the ground all the way to the tips of the branches. You will be amazed how much healthier your trees will be in spring if you do this and this will probably be all the fertilizer your trees need. Try it this year and see what happens. Dormant spraying and then following up by mulching with manure can help your trees begin to fight back from diseases the natural way. Applying John and Bob's Soil Optimizer, dry bagged earthworm castings, and products containing Rhyzobias in spring can also help the trees fight off pests and diseases in a natural way. If you really do all this I can predict that you are going to have "Beginners Luck"!
I cannot address your query about "mock fruit trees" since this is not a known plant name. Several plants are called "mock orange" due to their fragrant flowers. Mock orange is sort of a "catch-all" common name since it's used for more than one ornamental plant. Perhaps you are referring to one of these ornamental plants, which might be shrubs or perhaps trees? Try to identify what it actually is and then consult a pruning book for how to prune it. Once you have the correct botanical name you will be able to consult Sunset Western Garden Book or any good plant encyclopedia to learn more about its characteristics and care.
Goats head or puncture vine (Tribulus terrestris)http://en.wikipedia.org/wiki/Tribulus_terrestris is a serious plant pest, dangerous for dogs, animals, and people who step on the thorns, and even harmful to tires on cars and bicycles. Beginning today, pull out and destroy all you can. Wear thick leather gloves and protective arm covers. Rake and clean up the ground. Use pre-emergent herbicide such as corn gluten meal. Keep it up regularly pulling, bagging and destroying some of these weeds every day. Eventually you will get rid of it. The best way is to start immediately and don't try to do it all at once. Keep at it little by little until it's gone and don't ever let it take hold again. In spring catch and pull all the new plants that emerge. Get them pulled before they can make seeds. See what I have said on this subject under "Weeds". Don't use the preemergent herbicide in any area where you want to plant from seeds since it can stop seeds germinating for some time.
Photo by Starr Environmental