Native Plants Of Southern California's Coastal Zones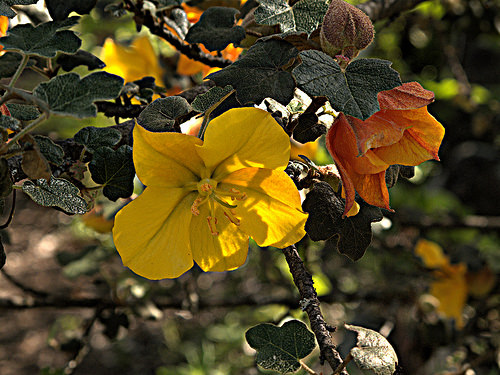 These are plants adapted to Mediterranean climate, drought-resistant plants, that can survive in coastal California zones on natural rainfall in winter alone.
Pinus torreyana—Torrey Pine (a source of pine nuts for local native American tribes.)
Coreopsis maritima—Sea dahlia. (Cannot abide summer water in gardens.)
Encelia californica—California coastal shrub daisy (native to coastal southern California. (E. farinosa—Brittlebush, or Incienso, is a desert plant, found in interior zones.)
Encelia farinosa (growing in the interior near Poway.)
Chrysanthemum coronarium—Crown daisy, Chop-suey greens, (roadside, self-sewn, naturalized, non-native  plant often found growing on disturbed land, road edges next to chapparal but does not mix with the wild plants, nor crowds them out.)
Dudleya lanceolata—Lance-leaf dudleya, Live-forever . (D. brittonii has wide leaves, chalky surface, pink flowers, once widely distributed in coastal areas but cannot survive if watered in summer.)
Dudleya edulis—Ladies Fingers. These were a source of salad greens for Native Americans.
Dudley brittonii, wide leaves, chalky surface, pink flowers, once widely distributed along the coast, still exists in Rancho Santa Fe, under eucalyptus where there is no summer irrigation. This plant springs up during the fall rains and is summer deciduous.)
Agave americana —Barrier plant, for keeping out traffic, people, dogs, etc.. Native to Mexico, not a chaparral plant.
Fremontodendron 'Pacific Sunset'—Fremontia, Flannelbush. An improved variety, or selection good for banks. No summer water, once established. Good drainage a must.
Ceanothus 'Joyce Coulter'—California lilac best adapted to gardens. Excellent planted next to 'Pacific Sunset' Fremontodendron on steep bank.
Ceanothus  'Popcorn' has very small leaves. (white varieties are native to coastal regions.)
Plants for steep hillside that gets no water once established include Atriplex canescens—Four-wing saltbush and Rhus trilobata—Squawbush
Cleveland sage, (Salvia clevelandii) is often grown in gardens. Best garden variety is 'Winnifred Gilman.' This is very aromatic in gardens and can take occasional water in summer.
Black sage (Salvia mellifera) is the local wild coastal sage. (Salvia clevelandii is a better one for gardens and has lavender flowers. Salvia aptinia is the white sage used to make Indian smoke sticks out of.
Matilija poppy (Romneya coulteri.)
Romneya coulteri—Matilija poppy (Native to canyons near Santa Barbara, almost extinct in the wild.)
Monkey flower. (Mimulus) M. aurantiacus is Sticky Monkey flower, Shrubby monkey flower or Scarlet monkey flower is Mimulus cardinalis. This one is native to damp and wet places. Mimulus aurantiacus grows wild and blooms almost year round on un-irrigated north-facing hillsides.
Verity Hybrid Mimulus. Newer hybrids called Verity hybrids are excellent garden plants, can survive watering.
Spice bush (Cneorum cneoridium dumosum)—Citrus family
Redberry (Rhamnus crocea) the fruit is edible. Taste ranges from bitter to cherrylike. Bitter aftertaste.
Malosma laurina (Rhus laurina)—Laurel sumac in Torrey Pines park. Good in gardens, common roadside plant in Del Mar. Good on banks.
Rhus integrifolia, Lemonade Berry, makes a wonderful plant for coastal gardens, needs no water or can take water, can be pruned into interesting shapes.  Rhus ovata is similar but is the one to choose for interior gardens.
Chamise, Greasewood (Adenostema fasciculatum) can grow even on red rock sand stone,  showing how natives can get started in a crack in the ground, but you can't expect that behavior in gardens. (Highly flammable but adapts to gardens)
Warty-stem Ceonothus (Ceonothus verrucosus). Wild type with small white flowers in spring, not widely grown in gardens.
California Buckwheat (Eriogonum fasciculatum)
Eriogonum arborescens 'Santa Cruz'—Santa Cruz buckwheat is a fine garden variety. Deadhead after bloom. (Another wonderful and taller, dramatic buckwheat is E. giganteum—St. Catherine's lace.
Coastal Sage Brush. (Artemisia californica) 'Canyon Gray' and 'Montara' are superior selections.
Deer weed, (Lotus scoparius)—perennial, covers hillsides after fire, native to coastal sage scrub and chapparal. (Said to be eaten by deer. Has pea-shaped blooms.
Cneoridium dumosum—Spicebush, (Citrus family.) Some people are allergic, break out in warts. (Arctostaphylos uva-ursi—Kinnikinnik, Bear berry—Good drought-resistant ground cover, prostrate grower,  native to northern CA coast.
Mission manzanita (Xylococcus bicolor)—Member of the heath family.
Heteromeles arbutifolia—Toyon, California holly growing in Torrey pines park. Brings birds, excellent roadside, no water needed but can take garden water, member of the rose, subject to fireblight. Many growing wild in Del Mar.
Dendromecon rigida—Bush poppy (Dendromecon harfordii—Island bush poppy—good garden plant for full sun.)
Purple nightshade (Solanum xantii) Poisonous, long blooming, Local member of the nightshade family (Solanum rantonnetii is a non-native  evergreen shrub for gardens from Paraguay and Argentina 'Royal Robe' is a good selection.)
Goldfields (Lasthenia californica) Member of the sunflower family.
Wishbone bush (Mirabilis californica)
Eriodictylon crassifolium—Yerba Santa (Named by the Spanish mission padres for its healing qualities. Cures respiratory infections and fevers. Bound the fresh leaves onto sores and smoked and chewed the dried leaves. Chew leaf: bitter taste changes to sweet cool taste.
Cucurbita foetidissima (Cucurbitacea family)—Stinking gourd. Foliage has fowl  odor. Early Spanish settlers and Indians used the large root as a purgative or pounded it into a soap said to clean like nothing else but said to need careful rinsing since particles left in garments would irritate skin. Indians ate the seeds, Spanish ladies used the gourds as darning balls. Children played with them. Grows on banks in some coastal towns. A rough perennial vine with large, carrot-shaped root. Dies to the ground in winter.
Marah macrocarpus—Wild cucumber, Old man of the earth. Trailing perennial vine from huge fleshy root, dies to the ground in winter, can live for hundreds of years, one of the first plants to reappear after fire because of its large root. Also known as man root, since large enough to seem like a human corpse. Indians used the seeds for necklaces; children used them as marbles. Male flowers appear on special stems in groups of five to 20 with the stamens exposed and noticeable, at the base of this special stem may be one female flower with a fat little ovary, which turns  into a large, egg-shaped bright green fruit, about 4 inches long, covered with big soft green prickles that turn hard and spiney as fruit dries. Inside are several handsome black seeds. (Marah refers to bitter waters in bible. Fruit is bitter.)
Vitis californica—California wild grape. A large vine, no fruit, provides delightful shade. Deciduous. Rogers Red holds gray-green leaf color all summer, turns red in fall. Vitis girdiana is nearly identical, native to Southern California.
Malocothamnus fasciculatus—Bush mallow. Grows on disturbed land, coastal sage, roadside, long-blooming, garden varieties may be available.
Suncups (Camissonia cheiranthifolia ssp. suffruticosa) Pretty flower of coastal dunes and cliffs.
Sisyrinchium bellum—Blue-eyed grass. Blooms magnificently after fire. Perennial.  (S. bermudiae, is a native to Bermuda, self-sows in gardens, blooms year round. member of the iris family.
Ground pink (Lynanthus dianthiflora) Phlox family. This plant and flowers named below mix together and carpet undisturbed cliffs after rain.
Vining milkweed. (Sarcostemma cynanchoides) Milkweed family.
Morning Glory (Calystegia macrostegia)
Golden Yarrow (Eriophyllum confertiflorum)
Phacelia cicutaria—Woolly phacelia.  Spring-blooming, high desert annual found in many wild flower mixes, adaptable to wildflower garden displays..
Woolley Indian Paint Brush (Castelleja foliosa) Figwort family
Woolley Indian Paint Brush (Castelleja foliosa) There is another species of Indian Paint Brush also growing in Torrey Pines Park. (C. affinis.) which has green floliage and reddish stems.
Sand verbena (Abronia umbellata)
Bladder Pod (Isomeris aborea) Very fragrant though some don't like this fragrance.
Lavatera assurgentiflora—Island tree mallow (Nativc to Channel islands, naturalized on coastal mainland, grows in many local gardens.)
Mexican marigold— (Tagetes lemmonii). Lovely growing next to S. leucantha, roadside or in gardens. A shrub. Cut back hard after bloom.
Mexican sage (Salvia leucantha)-colorful planted with Mexican marigold.
Hummingbird flower, California fuchsia (Zauschneria californica, syn: Epilobium canum canum .)
Mexican tulip poppy (Hunnemannia fumariifolia )— Plants look unapreposessing in the cans. But in the ground Hunnemannia fumariifolia —Mexican tulip poppy is a colorful perennial in a garden. (Similar to California poppy. Perennial, often treated as annual.)
Eschscholzia californica—California poppy
Appropriate garden settings for these plants include:
Drought resistant gardens with dry stream bed and mix of native and exotic plants
Fire-resistant chaparral gardens, Zones 3 or 4  surviving with no irrigation,  but with more water-adapted varieties subsisting on runoff fromhigher ground.
Coastal chaparral restoration and re-forestation projects.
Photo by John Rusk