California Pepper tree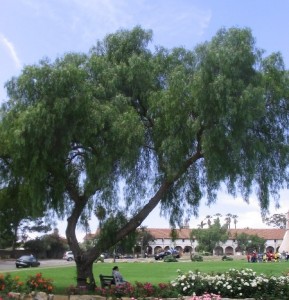 Question from Linda:
Hi, Am helping my cousin landscape her yard in San Diego and she says that nothing she's tried will grow in the ground under the dripline. Any suggestions?
Answer from Pat:
I am one of those people who happen to love the California pepper tree (Schinus molle), which is actually native to Peru and not to California. The other pepper tree is the Brazilian pepper tree (Schinus terebinthefolius.) People have love/hate relationships with both of these trees. I belong to the love group for California pepper trees but not for Brazilian peppers, though I have seen some old specimens that had been well pruned for many years and they were and are almost breathtakingly beautiful. (There are several of these stunning ancient specimens on the West side of Balboa Park in San Diego.)
But here we are discussing the California pepper tree. It is just about impossible to grow anything under a California pepper tree except in pots and containers so why try? This is not to say that one cannot use these trees in a delightful way in the landscape. There is a painting belonging to the Irvine Museum, a museum I try to visit at least once during each exhibition of their early California plein air and Impressionist paintings. The painting to which I refer is very impressionistic and is I believe on display now into June 11, 2011. If not, you can see it in some of the books that the museum sells in their gift shop. This painting shows some ladies sitting on a wicker couch and chairs at a green tea table with a white tablecloth on it under the shade of a California pepper tree and this is the way I think they should be used. All the lovely pepper trees I have known in gardens have been used as places to sit and relax in the shade or, in one case i recall, as a tree house for children. Children love playing under these trees which can arch their foliage down all around leaving a space like a house inside.
One particularly memorable specimen was fifty or more years old when I knew it. It grew in the garden of friends of mine who lived in one of the older parts of La Jolla twenty or thirty years ago. The land sloped down behind the two-story Spanish house and was covered with lawn. Today it would be probably planted with succulents or with a mixed flowering shrubbery and have some raised beds for vegetables in full sun and a level patio closer to the house. But we are talking here about the era before lawns came under attack and all this garden consisted of was simply a lawn with thick hedges on each side and the great California pepper filling the space at the bottom of the lawn. Can you imagine this was nonetheless the most charming and natural-seeming of gardens?
This California pepper tree had been pruned and cleaned out inside so that it arched up and the branches came down on the sides in a leafy fringe creating an open space beneath it like a special house. Around the outside the foliage was clipped off at a predetermined height about 3 feet above ground, but in the center, in front was a higher place so one could walk into what resembled a doorway and you didn't need to duck your head. The upper branches were filled with singing birds. So the place had its own built-in music system.
Under the shade of the pepper tree several pieces of artistically chosen wooden and wicker chairs were carefully placed with comfortable blue and print pillows on them, and there was a table too. These items of furniture were placed in such a way that they did not destroy the magical ambiance of the place, and nor did they fight with the large and twisted tree trunk which seemed like part of the entertainment. The woman owner of the garden was a member of the Fern Society. Next to her family, ferns were her big interest in life and this is where she kept her collection. With the artistry that some people have in as natural a way as breathing she had decorated the space under the pepper tree with ferns in pots and containers. All were placed on stepping stones so roots could not invade. Some were swung from hanging baskets at various levels inside the tree. Some epiphytic plants also had been established on the tree trunk and had found homes on the huge old branches. A whole collection of interesting things like epiphyllums, donkey tails and various succulents tumbled here and there from the ancient branches and from the tree's trunk in just the right places. I used to see gardens in Hollywood and Laguna Beach back in the forties that had collections like this in the trees. It is all part of the old California atmosphere that it is fun to create in gardens, though I grant you it does take talent. Photos in books, however, can give much inspiration and help in developing the right touch.
To say that this place was magical is to put it mildly. It embraced me in a special atmosphere that stays with me to this day when I remember it. One could have hooked up a drip system, hiding the tubes with great care so they did not destroy the charm. However, I imagine my friend dragged over the hose once or twice a week to water her plant collection and she doubtless plucked out the debris that fell into the pots, but that was her joy. Obviously one had to shake off or brush off the pillows since pepper trees are constantly drippy. The ground was simply mulch and covered with small brown leaves that sifted from above. The owner/gardener raked it up so it looked clean and was soft under foot. I don't know if she added mulch but a California pepper makes its own mulch. After knowing a tree like this one how can one ever fail to love such a tree? And so ever afterwards I have thought this is how I think they should be used. One could make a patio there of stepping stones but it's not necessary. The main thing is ornamenting the space in an artistic way and using it for seating and growing any plants in containers, always placing them on stepping stones so no roots invade.