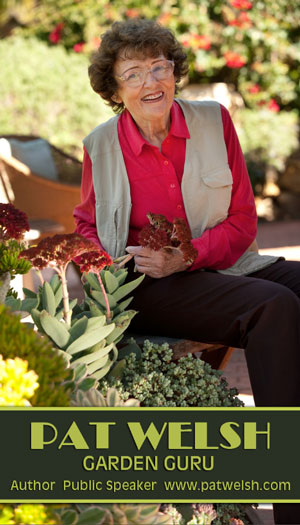 Horticultural Career
Emmy-award winning garden-writer, author of books including Pat Welsh's Southern California Gardening: A Month-by-Month Guide, TV performer, and professional artist, Pat Welsh was born in England, took up gardening at the age of three, and has had her hands in the soil ever since. Welsh's professional horticultural career began in the mid-1970's teaching courses in home gardening at UCSD Extension and Miracosta College. She's written countless articles and columns and hosted over 500 television segments and videos. Her current writing project is a book on Southwest Gardening for DK Publishers (New York/London), and the American Horticultural Society.
Artistic Career
Also a sculptor and life-long watercolor painter, Pat has recently turned her attention to multi-media mosaic. Her current art project is The Del Mar Library Wall Mixed-Media Mosaic Project, which includes terra cotta sculptures. Welsh and Schulz are currently building the template for this project in collaboration with other artist/volunteers. Construction is slated to begin in January 2003. (More…)
Garden Editor/TV Performer
Pat Welsh was the first Garden Editor of San Diego Home/Garden Magazine (beginning in 1979.) During the mid198o's she hosted a TV news segment called Newscenter 39's Resident Gardener on the NBC, San Diego evening news. She also hosted two garden videos for Better Home and Gardens, several infomercials, and performed many garden demonstrations on network and H/GTV.
Awards
Pat's awards include the San Diego Emmy, the San Diego Press Club Award, three Quill and Trowel Awards from the Garden Writers of America, Horticulturist of the Year from the Cuyamaca College Botanical Society, the Lifetime Achievement Award from Quail Botanical Gardens, and most recently Horticulturist of the Year 2003 from the San Diego Horticultural Society.
Education and Family
Pat Welsh graduated from Hollywood High School (as Patricia R. Fisher-Smith) and received her BA from Scripps College where she studied painting, ceramics, and design under Millard Sheets, Phil Dyke, Paul Pederson, and Jean Ames. She is the widow of Judge Louis M.Welsh of the San Diego Superior Court. In 1955 the Welsh's built their home in Del Mar designed by Judge Welsh's stepfather, John Lloyd Wright, son of Frank Lloyd Wright. Here Pat and Lou Welsh raised their two daughters, Francesca Filanc and Wendy Woolf. (Now married with children of their own, both are professional oil painters).
Home and Garden
Pat still lives in the home she and Lou built overlooking the ocean in Old Del Mar. She loves tending her Mediterranean-style garden that has been featured in many magazines and calendars and several TV shows, including Better Homes and Gardens (cover and article), Sunset Magazine, Coastal Living, San Diego Home Garden (cover and article), the Los Angeles Times Garden Calendar, the Los Angeles Times Magazine, Better Homes and Gardens Special Interest Publications: Spring Gardening, and Rebecca's Garden. "To me a garden is more than a collection of plants," says Pat, "It's a place with romantic atmosphere, a place where one can entertain friends and where plein air painters can gather to paint. It's a sort of paradise to delight in and to share."